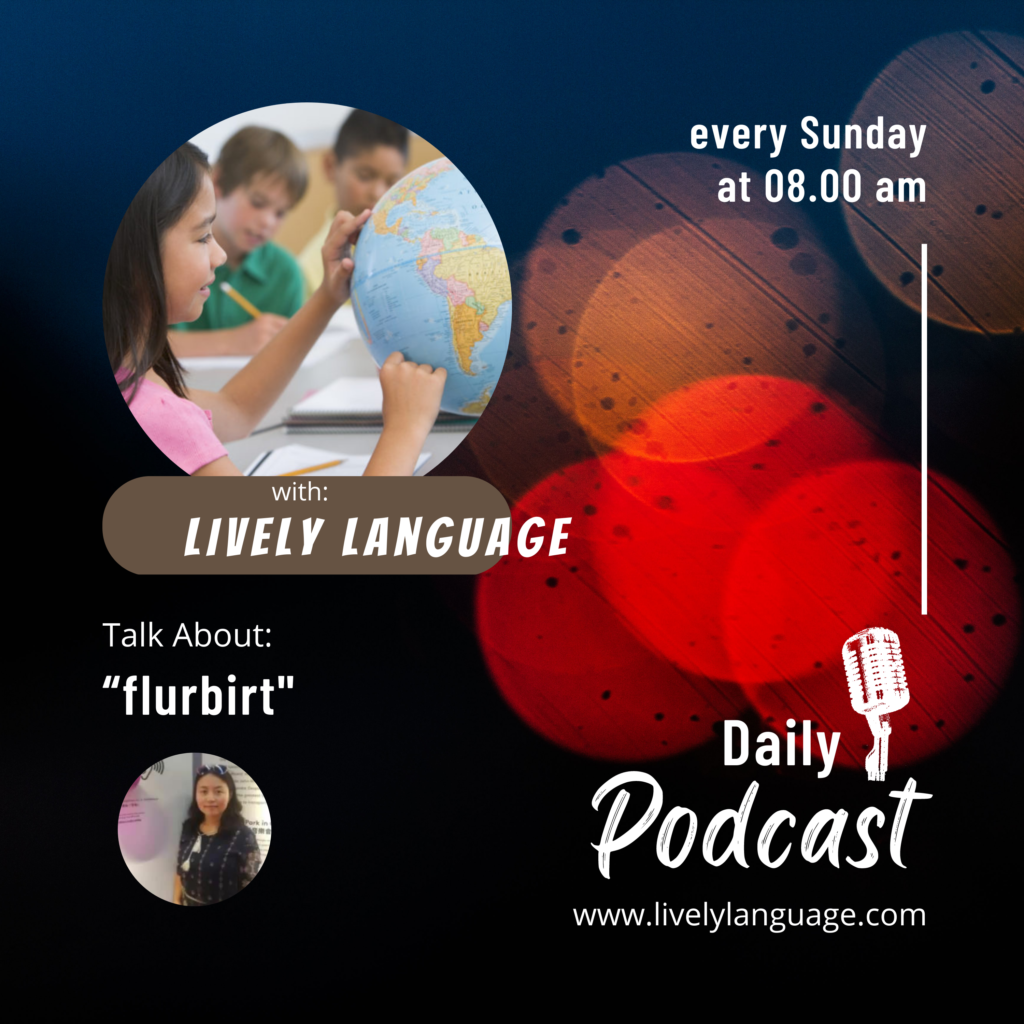 Podcast
Title: Learn with a Flurbirt
Tools: Canva, Buzzsprout, Rode speaker, Audacity
Links: https://www.buzzsprout.com/2132495/12239173
One tip for developing a podcast: Add the music track first before adding the audio track.
Scripts: Welcome to our podcast. Technology has been integrated into teaching and learning for many years. Educators including teachers and administrators look for more information and resources to support teachers to implement technology. With access to technology, the learning experience for students has been improved. Scientists have invented Flurbirt to help students learn during the pandemic. What is a flurbirt? it is a device like an earaid to help students to focus on what they are doing. For some students who have ADHD or need other support to focus on their work, flurbirt can assist students social emotional learning. With this device, students can avoid noises around them and stay focused on their work. Research has shown it can improve student engagement in learning at school and home. Compared to the traditional approach, students have shown great interest in using this device. I'm excited to bring this device to my classroom and benefit students learning. It is something everyone must have in education. It makes your teaching and learning fun and engaging. The more you are using it the more you will like it. For the school and the district use, the company also provides a good deal for educators. Hurry up! click the link below and share your experiences using this flurtbirt device!
Vodcast
Title: My Travelling Story
Tools: Canva, Camera, Video Editor
Links: https://youtu.be/GlzavhZGcKo
One tip for developing a vodcast: Use a video editor first; then add the video file to Canva; finally add the audio file.
Scripts: Hi, Welcome to our Channel. Learn language lively through LivelyLanguage.com. Please Subscribe to this channel and we will post more interesting stories. I want to share my recent traveling story to Hawaii.
We stayed in Hawaii for 7 days and there were so many things you could tell it was an unforgettable experience for us. We stayed in the hotel near Waikiki Beach and the next day we went to Hawaii Honolulu Zoo.
In the evening we stayed by the beach and enjoyed the sunset. You can tell it's so peaceful and relaxing.
We really enjoyed the local culture too. we got a chance to a hula dance event where you can see the authentic hula dance.
Hawaii is known for its breathtaking natural scenery with Crystal Clear Blue Waters it's a place to attract many people to come here every day. We love the local culture and unique wildlife adventure activities. There are so many places we want to explore. We will come here next time. Thank you for watching. if you want to listen to more stories about us please subscribe to our Channel we have more vodcasts for you and your friends